So we made it to Vegas. The flight here was 9 hours long. We had some essex boys sitting behind us. One of them must have had something wrong with his hearing – because somehow he managed to talk 10x louder than everyone, and he loved the sound of his own voice. He talked for the full 9 hours. Apart from that the flight flew by. I watched Super 8 on the plane, thought it was pretty good. Started watching Arthur too – seemed like it was good too, really like Russel Brand.
So we've been in Vegas for a full day now. Its hot as hell outside, luckily you only really go outside when going from place to place.
Today we went to the shark place.. It was pretty good. Kind of no suprises, fish in tanks. Everywhere.
Then we went to the Titanic exhibition. This was really good. You weren't allowed to take photos though. Lots of really interesting stuff. Full size mockups of parts of the ship. There's a big peice of the actual side of the ship. And there's a real iceberg too – that you can touch.
We went to madame tusaads. That was fun – it's what you expect.
Then we went on the New York New York Rollercoaster. Against Sarah's will. She was nearly crying when we were sitting in it waiting to go. It was pretty rickerty. But we did it!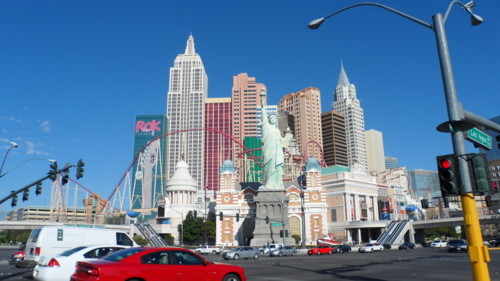 Really enjoying Vegas so far. Wasn't sure whether I would – because I hate people, and I especially hate large groups of people. But so far I haven't been annoyed. There's lots of systems everywhere that optimise efficiency and reduce annoyance.